Plans & Drawings for Small-Scale Live Steamers
---
This section is neither an article nor a catalogue, like the rest of the site, but more of a diary. As information becomes available, I add it to the bottom of the page, continuing in the manner of a discussion, which is how the information began to accumulate here.
---
Dacre and Paque Mogul
The following exchange took place on the live steamers mailing list group. The first question was from Dr. Uwe Ritter, to which I responded, followed by Mike Chaney's excellent list. Many of the drawings and plans Mike lists are available in the US through Sulphur Springs Steam Models (see the Dealers and Manufacturers list for details).
At 08:53 PM 8/8/96 +0200, Dr. Uwe Ritter  wrote:

>I would like to build a steam locomotive in G. I am looking for
>drawings (construction plans)for steam locomotives. Where can I buy
>such drawings or is it possible to get some for free? Best format would
>be in AutoCad.

There are, as far as I know, no plans commercially available in electronic
format.  There are several sources for plans from various dealers, but of
course they will cost you.

Joseph-Jean Paques of Montreal published an article about 4 years ago in
Steam in the Garden magazine about a gauge 1 type 2-6-0 he built, and he
offered copies of the plans for US$5.  I got a copy and they are just what he
promised: plans and a list of materials.  There are no instructions or hints,
just drawings.  If you are like me, a beginning machinist, you may not feel
competent to start on a project like this as your first one, though the price
of the plans is very reasonable and the loco looks like a good one (gas
fired, oscillating cylinders, axle-driven water feed pump, etc.)

Peter Jones of Wales released a book several years back called "First Steps 
in Building a Steam Loco", in which he shows how to construct a nice little
0-4-0 tank engine using only common hand tools and Roundhouse components
for the bits that must be machined.  It was published by Brandbright and is still
available.  You can write or call them for details on price, etc., and can order
over the telephone from a foreign country with a credit card:
Brandbright Limited
The Old School
Cromer Road
Bodham, Holt
Norfolk NR25 6QG ENGLAND
tel.: 011 441 263 588 755
FAX: 011 441 263 588 424

If you're already experienced as a machinist, you can use almost any plans you
can find, and scale them to fit gauge 1 track.  This opens the possiblities of using
plans from larger gauges -- several people have used Kozo Hiraoka's wonderful
books to make plans for gauge 1 locos. 

I hope this helps some.  If anyone knows of good sources other than these, please
send them to Dr. Ritter AND TO ME, so I can include them in my resources list.

regards,
  -vance-
---
British Prototypes
To: livesteamers@uwimona.edu.jm
From: Mike Chaney 
Subject: Re: Drawing plans
Date: Fri, 09 Aug 96 19:58:18 GMT
Sender: owner-livesteamers@centaur.uwimona.edu.jm

Welcome to the list, Uwe,

Do you mean G scale (1:22.5 on 45mm track) or Gauge 1 (10mm/ft or 3/8"/ft on 
45mm track)?

To my knowledge there is nothing drawn for G scale, except perhaps the Peter 
Jones "Dacre" which Vance mentioned and a series by Charlie Mynhier in recent 
issues of Steam in the Garden on a very solid looking 0-4-0.

For standard gauge, there is quite a lot, mostly British outline:-

From:   Paul Forsyth Models,
        78, Laburnum Crescent,
        Northampton,
        NN3 2LF
        England

        Tel: +44 (0) 1604 494995

C.R. McIntosh 4-6-0 918 class
G.C.R. Robinson 4-4-2 Atlantic - Jersey Lillie
G.C.R. Robinson 2-6-4T Coal Tank
G.C.R. Robinson 4-6-2T "Empire Maid"
G.C.R. Robinson 4-4-0 Director Class
M.R. Johnson "Belpaire" 4-4-0
L.T.S.R. 4-4-2T "Tilbury Tank"
H.R. Castle Class 4-6-0

These are all dyeline prints with no instructions and the occasional omission.

From:   Nexus Special Interests,
        Nexus House,
        Boundary Way,
        Hemel Hemstead,
        Herts.,
        HP2 7ST 
        England

        Tel: +44 (0) 1442 66551
        Fax: +44 (0) 1442 66998

Designs by Martin Evans:

Green Arrow LNER 2-6-2
Southern Belle LBSCR 4-4-2

Designs by "LBSC" (L.Lawrence):

"Juliet" 0-4-0T freelance
"Dot" 4-6-0 based on the Stanier class 5
"Diana"4-6-2 freelance coal fired
"Netta" 0-8-0 based on NER "T" class
"Mabel" 2-4-0 LNWR

Most of the Nexus designs have been written up in Model Engineer but back 
copies may no longer be available. (I took this list from the 1988 catalogue so 
there may be more designs available now.)

Keith Manison is building "DOT" and has a construcional series under way (brave 
man!) at http://www.fls.org.jm/users/fls/. (Ed. note: the link no longer works.)
Mike Chaney,
Engineer and Modelmaker,
http://dspace.dial.pipex.com/town/square/hg91

dedicated to keeping little kettles boiling
---
Reeves Model Engineers, and two Geared Engines from SitG
I have a 1996 catalogue from Reeves Model Engineers which lists the following Gauge 1 plans:
"Dot" and "Diana", a 2-6-2 design (Dot is alcohol-fired, Diana is coal-fired). Casting sets are available for these two locos. See Keith Manison's diary about building the Dot on his web page: http://www.fls.org.jm/users/fls/dot/dot.html. (

Ed. note:

the link no longer works.)
GWR County 1000, a 4-6-0
GWR 515, a 2-6-2T
SR Schools 4-4-0 "Girton"
F/L 0-6-0T "Lila"
LNER N7 835, a 0-6-2T
Update, Spring 2002:

The Reeves company has been bought and reorganized as "Reeves 2000". URL: http://www.ajreeves.com/home.html Though they do not appear on the web site's catalogue, Reeves do carry Gauge 1 castings ("Dot" and "Diana") and plans (numerous models). Contact Reeves for further information.


Steam in the Garden magazine started not one but two construction series in the Sep/Oct 1996 issue:
Steam Shay Construction Notes, "observations on a scratchbuilt Shay" by Jerry Barnes
Building the Vest Pocket Climax by Mel Ridley
The Shay article is first in a series, but the series looks to be more of a diary of construction tricks and solutions. The Ridley article appears to be a complete package: if you're capable, you can build the entire loco from bits of raw metal. If you're less experienced, you can buy certain parts already cast, or as machined castings. This promises to be a significant contribution to the hobby.
---
The G1MRA Project Loco
The Gauge One Model Railway Association (G1MRA) offers a book detailing how to build a fairly sophisticated 0-6-0 of British outline. The book, published in 1970 and still going strong, is by now a classic of G1 steam construction. While it is not suited to a rank beginner in the machine shop, a novice who has some experienced friends to consult should be able to complete it. The Project lends itself to customization by the builder, and has been the source of many variants.

Details are available on the G1MRA's web site: http://www.gaugeone.org/resources.htm
---

more Books by LBSC
On 29 Oct 1996, Keith Manison (manison@uwimona.edu.jm) wrote:
The two books from TEE Publishing are:

Small Loco Construction by LBSC - Building Souther "Girton" in Gauge 1
Introducing "BAT and "OWL"  by LBSC  (These are 0 gauge)

The address is 

TEE Publishing
The Fosse
Fosse Way
Radford Semele
Leamington Spa                                                  
Warwickshire CV31 1XN
England
Tel 44 192 661 4101
Fax 44 192 661 4293

They are on email at
TEEPUB 100544.1675@CompuServe.COM

They take plastic and will accept orders by email.
---
Building your own loco design from parts and plans.
If you're comfortable that you know how steam engines work and go together, you may be ready to try designing and building a locomotive of your own design. You could also take the general procedures in Brandbright's Dacre book, or some other published plan, and modify it to use available parts.

Ed Warren, beginners projects columnist for MODELTEC Magazine, produces a number of plans and unmachined kits for simple steam motors of many types. Included in this assortment are a double-acting oscillating cylinder design (named "Lorrie"), of a size suitable for gauge 1 locos, and a 2-cylinder double-acting oscillating steam motor unit intended for a Shay type locomotive (named "Rohnda").

With a small lathe and Ed's plans, you should be able to scratchbuild a simple engine similar to the DeWinton or other flatbed, vertical-boiler types. Using the Lorrie cylinders and a Mamod or Wilesco boiler, you could build a simple rod-type engine. (Diamond Enterprises sell Wilesco boilers as spare parts.)

Update: Ed Warren no longer offers these drawings, though MODELTEC published several books of Ed's plans, and some plans may be available in back issues of MODELTEC.
---
Chloe and Gammy
Garden Railways magazine reviewed two plans for gauge 0 and gauge 1 live steamers in the December 1996 issue. The plans are for a freelance (to the point of whimsy) 2-2-0 locomotive for 0 gauge track, Chloe. It is alcohol fired and has single-acting oscillating cylinders. The second is for a British-style, outside frame 0-4-0 side tank engine called Gammy. Gammy's fixed cylinders have Hackworth valve gear, and the boiler is alcohol fired. The wheels may be regauged for either 0 or 1 gauge track. According to the GR review, both are for experienced builders, as they are part and assembly drawings only, with no text or instructions.

The plans were priced at US$18 + $5 shipping (Chloe) and US$35 + $10 shipping (Gammy) at the time of the review. For more details, write to
Meg Steam
161 Lohr Road
Victora BC V8X 3X3
CANADA
---
More Steam Locomotive Plans from TEE Publishing
TEE Publishing has several books on constructing small-scale locomotives. For example, A STEAM LOCOMOTIVE FOR "0" GAUGE by N Dewhirst. According to the TEE site, the book "describes and, with the accompanying set of 17 A3 sized plans, illustrates the construction of an "0" gauge 4-6-0 Steam Locomotive or to be exact two locomotives since it can be built either as an LMS Class 5 or a GWR County Class. A Past Masters book first published in 1955."

Other titles in the TEE catalog include:
MODEL STEAM LOCOMOTIVES by Martin Evans
BUILDING A GAUGE '0' BASSETT-LOWKE 2-6-0 STEAM LOCOMOTIVE
HOW TO BUILD 'GIRTON' A SCHOOLS CLASS LOCOMOTIVE FOR GAUGE 1.
... as well a a number of gauge 3 (2½ inch gauge) locomotives (½ inch scale standard gauge).
---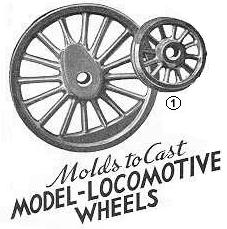 Molds to Cast Locomotive Wheels
Robin Corsiglia has scanned an article from a 1940's home workshop magazine, Mechanix Illustrated, which I make available here. The article shows how to make brass molds for casting your own locomotive wheels from white metal. Naturally, this material won't do for working live-steam locos, but one could certainly use the technique to make wheel centers, then turn steel tires for the bearing surface. Have a look.
---
Martin Lewis Plans/Castings from Little Engines
Little Engines have two books (collections of serialised projects, actually) on building 1:48 and 1:24 live steam models of US type standard gauge mainline equipment. Note that the 1:48 should run on standard 0 gauge track, while the 1:24 model, being standard gauge, runs on 2.5 inch (63.5mm) gauge track.

The half-inch scale book is simply titled Drawings and Instructions Covering the "Step by Step" Method of Constructing the 1/2" Scale Locomotives by Martin Lewis. The plans are Mountain type (eight-coupled) or Pacific type (six-coupled) engines. You may not wish to build exactly this type of locomotive, or at this scale, but it should be noted that these construction series are quite exhaustive, and would be useful to a builder or designer of any rod-type engine. (Similarly, Kozo Hiraoka's books on geared engines are used by builders in scales other than the original 5" gauge.) I found the plans and accompanying articles quite useful in learning general building and design techniques, and came away with many good ideas. The reproduction is a little on the murky side, but given the wealth of information they contain and their reasonable pricing (US $12 each) I would call these books a "best buy".

Castings for these locos are also available from Little Engines. They include wheels (spoked or Box-poc), rods, truck frames, cylinders and steam chest, boiler door and domes, tender parts and detailing accessories.
---
Argyle's Baldwin 0-4-2T "Philadelphia"
Argyle Locomotive Works have announced that they are making their popular 1:20.3 scale Baldwin 0-4-2T engine "Philadelphia" available in a number of formats oriented toward builders. The kit is available in five sections:
Drawings.
Un-machined castings, wheels, boiler tubes, body plates and wood cab.
Miscellaneous bar stock materials and detail castings.
BA fasteners and screws necessary to assemble engine.
Finished boiler.
This will make available a really nice engine (and in a really nice scale!) to a variety of builders.

Argyle is represented in the US by Sulphur Springs Steam Models.


UPDATE: This kit is no longer available. Please contact Argyle about continued availability of drawings.

---
Valve Gear Simulation Program
Designing a valve gear for your locomotive? You'll need some reference books, and you'll need a lot of calculation to make sure everything works.

A faster way -- and more reliable way, too -- to check the workings of the gear is to use a valve gear simulation program.

There are two currently available, both for x86-based PCs. My favorite is Charlie Dockstader's program. It shows you the valve gear in motion, and also gives steam indicator and valve event diagrams, which let you know that your events are balanced, correctly timed, etc.

You can download a copy from Dockstader's web site, from here or from the Alaska Live Steamers site.

---
A CAD Project: a Baldwin outside-frame 2-8-0
Inspired by builders like Keith Manison and Clark Lord, I thought it might be useful to create a project page for my current locomotive, an Baldwin narrow gauge "catalog design" which became well-known among Denver & Rio Grande Western fans as the no. 375 (C-25 class).
Some months after having uploaded some photos and drawings, it still hasn't turned into the kind of diary I would like to read, but it's a start. I have CAD screen shots and photos of some of the early parts on the site at http://www.nmia.com/~vrbass/steam/c25/c25.htm.

---
Dutch Stoomgroep Holland and NVM
The Dutch Steam Group (Stoomgroep Holland) and the Dutch Model Engineers Society (Nederlandse Vereniging van Modelbouwers) publish a number of designs in gauge One. Some of these are standard gauge locos, some are at 1:20 scale. A particularly nice loco is the Stoomgroep's Gotland. This 0-6-0 tank loco is meths (alcohol) fired with a water-tube (Smithies) boiler.

The Nederlandse Vereniging van Modelbouwers catalogues now contain over 1300 different plans which are available for members and non-members. Six different catalogues exist, each covering a different kind of modelbuilding.
Nederlandse Vereniging van Modelbouwers
Secr.: Frans Kamman,
v.d. Helstlaan 5,
1412 HG Naarden,
Netherlands
Tel.: (mo-fr 18-21h) and fax: 035-6940567
email: modeller@knoware.nl
The Stoomgroep Holland has drawings of steam driven models and equipment (Metric of course). Request a list from the secretary.
Stoomgroep Holland
Hans Rijs, Sec.
van der Maistraat 47
8433 NK Haulerwijk
tel: 0516 423055
web site: http://www.stoomgroepholland.nl/

Thanks to Keith Bucklitch for this pointer.

---
German 0-4-0 CAD drawings
Konrad Muecke has generously made his CAD drawings of a German 0-4-0 steam loco available to other small-scale live steamers. There are 19 drawings altogether, which are bundled together into a self-extracting archive (LOCO99.EXE). The drawings are in the DXF format. ( If you are running a Mac and can import DXF, but can not extract the archived zip files, please mail me (vrbass at nmia.com) or Konrad (k.muecke at machpr.de). We can send them to you via e-mail. Konrad has other plans available free, as well as locomotives built to order, on his web site: http://www.machpr.de/dampf/dampf2
---

A carload of drawings from Sulphur Springs
Sulphur Springs Steam Models, North America's premiere supplier for the small scale live steamer, now has an on-line version of their excellent catalogue. In addition to the locos, tools, fasteners, and supplies, they carry a large selection of engineering drawings for locomotives. Most are of British origin (and most, if not all, have been previously mentioned here). If you're building a locomotive from scratch, however, there's nothing to stop you from finishing it as an American, German, or Australian prototype.
The Sulphur Springs drawings are at http://www.sssmodels.com/booksvidsdwgs/booksvidsdwgs.html#drawings
while the main catalogue index is at http://www.sssmodels.com/.

---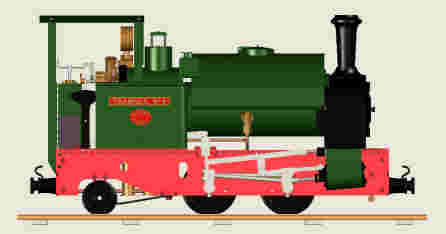 Kerr-Stuart Brazil Class 0-4-2T
Keith Bucklitch has written an extensive series of articles on building a 16mm scale model of Kerr-Stuart's Brazil class 0-4-2T for 16mm Today magazine.

Keith notes that the prototypes from this class were built to gauges from 2 ft (60cm) to standard gauge (inside frame), making it suitable for modelers of any gauge railroad. This is an impressive series, including measured drawings and good commentary on construction issues. Highly recommended.

Keith Bucklitch and Francis Leach have put together a marvelous CD-ROM set with Keith's construction article, photographs of the locomotive and its disassembled parts, along with Leach's

interactive

3-D renderings and a short film showing the preserved prototype in action. The interactive 3-D drawings are the big news here. They allow you to rotate the finished locomotive in all direction, as well as remove parts to reveal the underlying construction. It's a fantastic tool and one that I hope will become standard for model engineering projects.

---
Things to do with an Accucraft Ruby
Following on Accucraft's release of the Ruby, steam fans have begun discussing how to modify the engine into other types. The engine was designed for easy kit-bashing, with removable cab, side tanks and stack. While researching some possibilities for my Ruby, I scanned some of the relevant photos from various period Baldwin publications and put them together on a web page: Things to do with an Accucraft Ruby. Also included there are drawings I made for a Porter style saddle tank which should adapt nicely.

---
A Byers geared locomotive
Ernest Glaser and Dick Summerfield have designed a small geared loco based on the John Byers 0-4-0 contractor's engine, and made the drawings available on the web at http://home.iae.nl/users/summer/16mmngm/Articles_htms/Cracker.htm. The prototype is the same as for the popular Berkeley Loco Works Cricket, but the design is completely new, a 1:19 scale 0-gauge engine with oscillating cylinder and a center-flue gas boiler, done as a British quarry type engine. It looks to be pretty easy to build, and should be a charmer, as well as a strong puller.
---

G1MRA Project Gets a Little Sister
The hugely popular Project locomotive from the Gauge One Model Railway Association (G1MRA) has been a staple of first-time loco builders since 1970. In 2001, G1MRA announced the publication of "The Dee Book", which produces a much more sophisticated inside-cylinder locomotive, modeled on a classic British prototype that is "arguably the most beautiful 4-4-0 of the Edwardian era". The locomotive may be built with alcohol or gas firing The Dee project relies on the original G1MRA project, so you must have both books in order to build Dee, but both together are still priced quite reasonably.

You can learn more about G1MRA's Dee at their web site: http://www.gaugeone.org/resources.htm

---
BAGRS Project Geared Loco

---
Decauville Industrial 0-4-0T

Here's something for you 1:13.7 scale fans (2-foot or 60cm gauge on 1-gauge track): Plans for a Decauville 0-4-0T or 0-6-0T. The plans appear to be very complete and beautifully laid out (for example, see the 3-D chassis view at right). The plans are saved as high-resolution TIFF format files and packed in ZIP archives. The page is in French, but should pose no problems for those who don't speak the language. Just follow the links - every one leads somewhere interesting. This should be a great project for anyone who has succumbed to the charm of 7/8n2 scale. The plans are free, with the condition that builders inform the designer of their models.
http://jpduval.free.fr/Lv020de45%20plans.htm

---
"Idris"


Dave Watkins is a prolific builder. He has published many construction articles in various magazines, most often

Sixteen Mil Today.

He's devised complete plans for "Idris", a deWinton style loco (4-wheeler with vertical boiler, not unlike the BAGRS Project), as well as others. Check his steam web site http://www.davewatkins.pwp.blueyonder.co.uk/16mm%20railway/steam.htm for the complete range.
---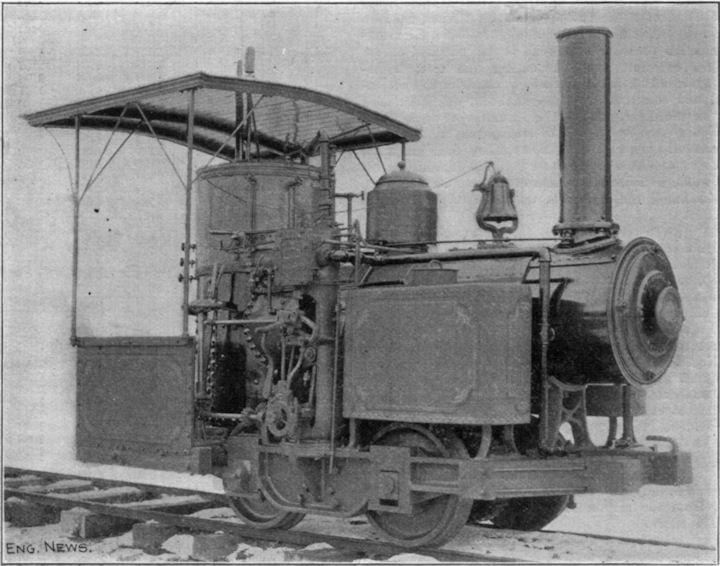 Another Byers geared loco

Susan Parker has taken the recently discovered photos and drawings of the Byers geared 0-4-0 (original inspiration for the much-loved "Cricket") and is developing plans for a scale model of this locomotive in both riding scales (1" and 1.5" to the foot), as well as for garden scales (15mm gauge 1 and 16mm gauge 0).

This is yet another refinement of the Cricket/Cracker family and is much welcomed. Stay tuned for her updates.

http://www.susan-parker.co.uk/susan-byers-industrial-locomotive-project.htm





---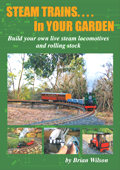 Steam Trains...In Your Garden

This terrific book covers construction of "Eric", a British, outside-frame 0-4-0 tank loco in 16mm/ft scale. The book is illustrated with color photographs as well as excellent three-dimensional computer drawings, including many exploded views. It is comparable in scope and quality to the books of the great Kozo Hiraoka. In addition to the mechanical construction, the book also covers painting and lining, operation and even construction of rolling stock (including plans!).

Steam in the Garden

reviewer Jeff Young calls the book "definitely a must-have", even if you do not intend to build this exact prototype.

http://narrabriweather.net/sponsors/steam.html


---
Steam Railbus

---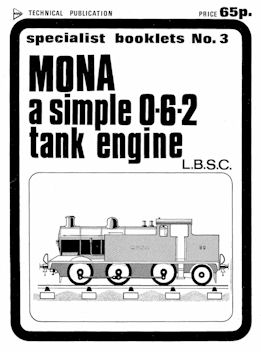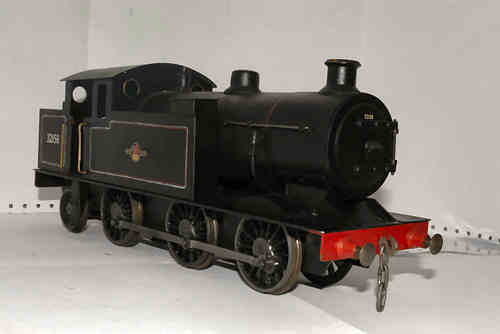 LBSC's "Mona"

John Angell of the G1MRA sent a note about an LBSC design for an 0-6-2 loco in either 3.5" or 1 Gauge. It's known that some of Curly's designs were published without the benefit of having been built and corrected, but Mr Angell also has a running example, constructed by a friend of LBSC, so this one is presumably an error-free design, and quite a handsome engine.
The book was published in 1969 and is long out of print, but it's available secondhand.
---

Go to previous section (Small Scale Live Steam Organizations).

Go to next section (Small Scale Live Steam Dealers and Manufacturers).

Go to table of contents.
Compiled and © copyright 1995-2019 by: Vance R. Bass. All rights reserved. Please use any and all information contained herein for your hobby enjoyment. If you're going to republish or make money from it, talk to me first.
Last updated 14 October 2019