Manufacturers and Suppliers

---

Most of the information in this section was taken from advertisements and from literature provided by the companies listed, and has not been verified by the compiler of this list. Check with the listed firm for their most current information. All prices are in US dollars unless otherwise specified. I would appreciate being notified if you have corrections or additions which should be made to this list.
---
Over the last several years, Accucraft has developed an impressive live steam roster and continues an active product development program in 1:20.3, 1:32 and 1:13.7 scales.
The hobby's most popular entry-level steamer is probably the Ruby, a small Baldwin available in live steam only. It's a good runner, has set new standards for a quality entry-level engine, and should be especially attractive to US prototype modelers. Its modular design made it an excellent candidate for kit-bashing. The basic 0-4-0 Ruby started shipping in fall 1999 and is also available in several different models (0-4-0T, 2-4-2, different tank configurations). The basic Ruby is also available as a screw-together kit.
Accucraft has stated their intent to offer live steam versions of all their electric locomotives and have followed through with this. They now have an impressive range of narrow gauge rod locomotives (2-8-0, 2-6-0, 4-4-0, 4-6-0, Mason Bogie), geared industrial engines (Shay and Climax), and finescale mainline locos (SP Daylight, 0-6-0, and cab forward, CP Royal Hudson, etc.) in their portfolio. The latest addition is a 1:13.7 (7/8" scale)


Accucraft Trains
33268 CENTRAL AVENUE
UNION CITY, CA 94587
Tel: (510) 324-3399
Fax: (510) 324-3366
Email Address: info@accucraft.com
General web site: http://www.accucraft.com
Steam locomotives web site: http://www.livesteamstation.com/

The new "Live Steam Station" site has the complete line from Accucraft and its affiliated companies (Aster Hobby, Accucraft UK, MaxiTrak).

---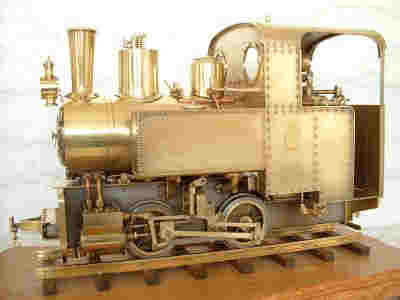 Anything Narrow Gauge

British suppliers of locomotives by Roundhouse Engineering and Accucraft UK Ltd. as well as track, accessories, etc.

Simon Whenmouth
Anything Narrow Gauge
Holsworthy, Devon,
Callers by Appointment
Landline: 01409 259009
Mobile: 07711 387621
E-mail: anythingnarrowgauge@googlemail.com

---
Argyle Loco Works
Australian dealer of live steam locos for 1- and 0-gauge (Accucraft, Aster, Regner, Roundhouse) as well as track and accessories.

Argyle Loco Works
241 Belgrave
Gembrook Road
Clematis 3782 Victoria, AUSTRALIA
tel./FAX: +61 3 5968 6573
e-mail: sales@argyleloco.com.au
Web page: http://www.argyleloco.com.au
---

ASTER Hobby Co. Inc
Aster is widely considered to be the producer of the finest commercially made live steam engines in the world. Others may equal their quality, but these are few, and their output cannot rival Aster's. Aster is the standard to which most small-scale live steamers compare the other builders. Aster's engines are available either ready-to-run, or as "screwdriver kits", which may be assembled using the hand tools supplied with the kit.
Their product line is a more or less even mix of European, Japanese, UK and US prototypes. Most are 1:32 scale models of standard gauge engines, with a few narrow gauge models. Depending on the engine, they may be gas, alcohol or coal fired (or alcohol and coal, in a couple of cases).
The Aster catalogue (now discontinued) is an extremely valuable book, even if you don't own, or even plan to own, any Aster engines. It's one of the best reference books available on the mechanics of small-scale live steam locos, and should be in every small-scale steam library.
The Aster Hobby web site has a worldwide list of importers and suppliers. Their importers and suppliers list has links to web sites for their representatives in North America, the UK, Europe and Australia.
ASTER Hobby Co., Inc.
4445, Ikonobe-cyo, Tuduki-ku, Yokohama, Japan 224-0054
tel.: 81-(0) 45-934-5646 (English), 81-(0) 45-934-6008 (Japanese)
fax: 81-(0) 45-933-9486 (24 hours)
e-mail (in English): sales@asterhobby.co.jp
Web site (in English): http://www.asterhobby.com
---
Bear Creek Railroad
Dealer for Aster Hobbies, Accucraft Trains, Llagas Creek track, Sierra Valley wheels and Sunset Valley track.
Bear Creek Railroad
2986 - 145A Street
South Surrey, BC
Canada, V4P 1P7
tel: 604-535-2454

---
Manufacturers of 1:20 scale, 0-gauge and/or 1-gauge geared industrial loco "Cricket". Inexpensive, butane-fired model of prototype made by John F. Byers Machine Co. in 1890's.
Bellflower has taken over Berkeley Locomotive Works' celebrated design, making this charming entry-level performer available again. The loco has a single cylinder, geared to the driving axles to give impressive pulling power. In the words of one owner, it will "pull a train up a telephone pole". Two boiler styles are available: straight and the larger T-boiler, giving longer runs. It is manufactured completely in the United States, each locomotive being made to order. Contact owner Art Ruiz of Bellflower Cal. to get on the waiting list.

Art Ruiz
Bellflower Locomotive Works
e-mail: art@cricketlivesteammotor.com
tel.: 562-355-3012
---
Distributors of steam locos from Brandbright, Roundhouse, Accucraft.
Brandbright offer a number of British and American style locomotives, as well as a wide range of rolling stock, accessories, etc.
Brandbright Limited
Unit 3
Holland Business Park
Holland Way
Blandford
Dorset
DT11 7TA
United Kingdom
tel.: 44 1263 588 755
FAX: 44 1263 588 424
e-mail: steam@brandbright.co.uk
web site: http://www.brandbright.co.uk/
---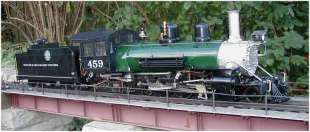 D.J.B. Engineering

D.J.B. Engineering is known for beautifully made locomotives of British two-foot narrow-gauge prototypes (16mm/ft. or 1:19 scale, running on 0 gauge track).

Recently DJB has concentrated on coal-fired boiler conversions for locomotives built by Roundhouse Engineering or Accucraft.D.J.B. Engineering


DJB Model Engineering
"Eleanor House",
Sibthorpe Hill,
Tuxford,
Nr Newark,
Notts NG22 0PJ
U.K.
tel: 01777 871047
e-mail: pbailey262@btinternet.com
Web site: http://www.djbengineering.co.uk/

---
German manufacturer of gauge , G scale (1:22.5) live steam and electric locos.

Dampfmodellbau Reppingen
Gewerbepark 34
52388 Nörvenich
GERMANY
Tel.: +49 (0) 2426 90 24 90
e-mail: reppingen@t-online.de
web site: http://www.reppingen.de/ (German only)

---
Forest Cla

ssics



Forest Classics is a dealer for Mamod, Wilesco and other well-known steam toys. They carry upgrades for Mamod locomotives, as well as some used steam railway models.

Forest Classics,
Fairview Bungalow, Wood Edge Road,
Lower Milkwall,
Coleford, Gloucestershire,
GL16 7LF
United Kingdom
Tel & Fax (+44) 01594 832797
e-mail: info@forest-classics.com
Web site: http://www.forest-classics.co.uk/

---
John Hemmens

The Hemmens name has long been associated with small-scale live steam, though the firm did not make locomotives for a long time. They now offer a lovely "Birmingham Dribbler", a reproduction of a very early live steam locomotive type. Like the originals, it is intended as a floor toy, and thus no track gauge is specified. Unlike the originals, the Hemmens dribbler runs on Sterno pellets, rather than an alcohol wick burner. It's a charming toy, and would make a fine mantle display piece, even if you don't intend to run it on your railway. (Listed under "Limited Editions".)

John Hemmens
28, Breighton Road
Bubwith, Selby
England YO8 6DQ
tel: 44 (0)1757 289 664
e-mail: enquiries@steamengines.co.uk

---
Mamod
Mamod makes a wide range of steam-powered toys, and their locomotives are often the entry point for newcomers to the hobby. Because they were originally sold to the toy buyer, they tended to be "throttled back" somewhat in terms of performance and efficiency. Some simple modifications can turn a lethargic Mamod into a real performer, so don't overlook them in your search for a beginner's engine.

In recent years, the company has expanded their locomotive line and revamped them with an eye to today's steam hobbyist - older, more capable, and demanding a more sophisticated locomotive. Current Mamod locos have gas-fired, silver-soldered boilers. The detail level is still what one would have to call "low", but that's part of their charm, and they have been successfully kitbashed by many, many steamers.

Mamod Limited,
Unit 1A, Summit Crescent Industrial Estate,
Smethwick, Warley, Birmingham,
B66 1BT ENGLAND
tel.: 0121 500 6433
Web site: http://www.mamod.co.uk/
e-mail: enquiries@mamod.co.uk

---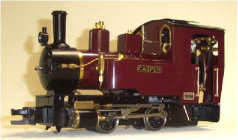 Modelbouw Atelier Apeldoorn

"Het juiste adres voor Tuinspoorders, Stoomliefhebbers en Scheepsbouwers."
Manufacturer of the coal-fired Henschel 0-4-0T "Casper" (photo). Supplier of live steam model locomotives (Regner, Roundhouse Engineering), stationary engines and boats, as well as general garden railroading equipment and supplies.

Modelbouw Atelier Apeldoorn
Ketelboetershoek 28, Industrieterrein Matenhoek (wijk 28)
7328 JE Apeldoorn, NETHERLANDS
Tel: 055 5334138
Fax: 055 5427752
E-mail: info@modelbouwatelier.nl
Web site: http://www.modelbouwatelier.nl/
---
North Jersey Gauge One
Dealer for Aster and Accucraft live steam locomotives. They also carry larger scale live steam, as well as electric gauge 1 engines.

North Jersey Gauge One Co.
Jeff Koeing
northjerseygaugeone@yahoo.com
Tel: (973) 943-7371
Sussex, New Jersey

---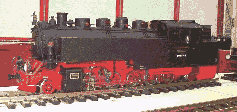 Regner Dampftechnik, Eisenbahntechnik

Regner is the major manufacturer of live steam locomotives and parts in Germany. They produce ready-to-run live steam locomotives for Gauge 1, kits, parts (wheels, cylinders, boilers etc.), and traction engines.


Regner Dampftechnik, Eisenbahntechnik
Erlenweg 3
91589 Aurach
GERMANY


Tel: +49-9804-1745
FAX +49-9804-1781
e-mail: regner-dampftechnik@t-online.de
web site: http://www.regner-dampftechnik.de/

---

Roundhouse Engineering
Manufacturer of ready-to-run engines and kits in "G" scale and SM32 scale (16mm on gauge 0). All have outside frames with Walschaerts valve gear, and are butane fired.
If you have an internationally recognized credit card, you may order directly from Roundhouse. Their Living Steam Web site has a world-wide list of Roundhouse dealers. Roundhouse produces an extensive range of (mostly British isles) narrow-gauge locomotives, including a gorgeous Sandy River & Rangely Lakes 2-6-2, Darjeeling Class B, an American-style saddle tanker"Sammie", etc..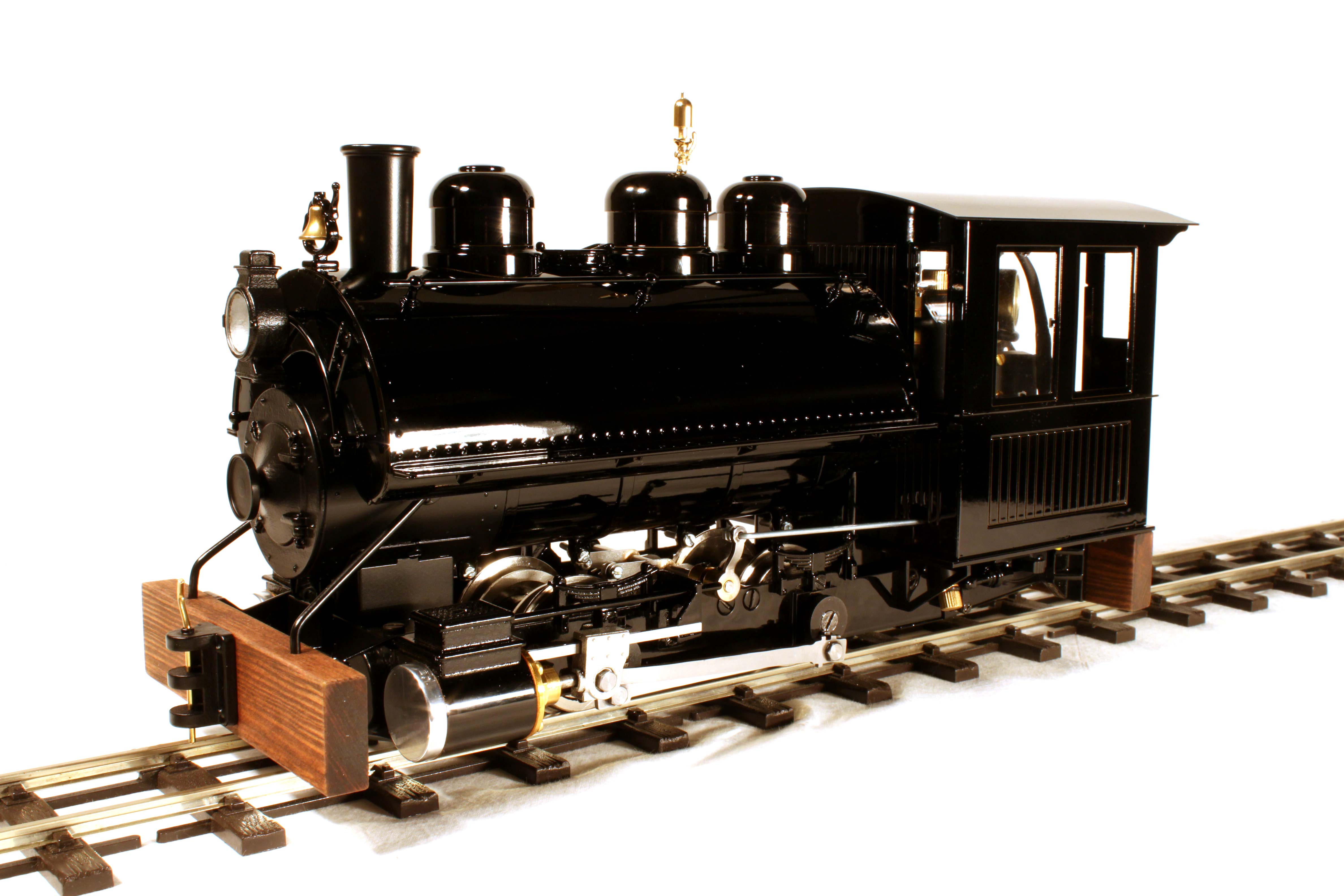 Roundhouse Engineering Co.
Unit 6, Churchill Business Park
Churchill Road, Wheatley
Doncaster DN1 2TF ENGLAND
Telephone: 44 1302 328035
FAX: 44 1302 761312
e-mail: sales@roundhouse-eng.com
Web site: http://roundhouse-eng.com/

---
MVB Schug
The European representatives of Accucraft. Web site in German and in English.
MBV Schug
Accucraft Distributor Europe
Neustrasse 18
D-54340 Detzem
Germany
Tel: 49 6507-802326
Fax: 49 6507-802327
e-mail: info@accucraft.de
web site: http://www.accucraft.de

---
Silver State Trains

Silver State carries Accucraft live steam locomotives and AMS rolling stock; AristoCraft live steam locomotives, rolling stock, and accessories; Summerlands chuffers and many other related products.

Silver State Trains
2523 Vintage Rose Ave
---
Southern Digital Railroad Hobbies

Southern Digital carries a wide range of model railroad items in various scales, specializing in DCC, but of interest to live steam fans is that they are also a dealer of Accucraft and Aster Hobby live steam locomotives.

Southern Digital
4002 Hwy 78
Suite 530-190
Snellville, GA 30039


tel:

770-929-1888
fax: 770-679-0300
web site: http://www.sodigi.com/Live_Steam.htm

---

Southern Steam Trains
Dealer of Aster Hobby locomotives. Their web site has a complete roster of every Aster engine made with specifications and many photos, a good historical reference, as well as the complete Aster catalogue. 'Complete' means that it also includes the reference material that makes the catalogue an indispensible part of a small-scale steam library. The site has also begun running technical articles by Kevin O'Connor in the Reference section. Definitely worth bookmarking!
Southern Steam Trains LLC
201 Grandview Circle
Travelers Rest, SC 29690
tel: 864-979-4128
e-mail: information@southernsteamtrains.com
web site: http://www.SouthernSteamTrains.com

---
Summerlands make "chuff pipes" -- resonators that amplify and enhance the exhaust beat of a steam loco -- for a number of 1 gauge and 0 gauge locomotives. They are constructed of heavy brass, silver-soldered and measured carefully to get the optimal acoustic effect for each locomotive type.
UK:
Nigel Garrett at D P Supplies,
Unit 19, Jubilee Enterprise Centre, Jubilee Close
Weymouth DT4 7BS
Tel. 01305 781911
email: enquiries@dp-supplies.co.uk
web site: summerlands-chuffer.co.uk

---
In addition to their well-regarded line of track, turnouts, rail bender and switch stands, Sunset Valley is also a dealer for Accucraft, Roundhouse Engineering and Aster Locomotives.
Sunset Valley Trackworks
13428 209th SE
Issaquah, Wa 98027
tel/FAX: 253-862-6748
e-mail:pete@sunsetvalleyrailroad.com
web site: http://www.svrronline.com
---

The Train Department

The Train Department carry Regner, Roundhouse, Bowande and Wilson steam locomotives, Sierra Valley wheels, steam oil, Welsh coal, rolling stock, track, and accessories.


The Train Department
PHONE: 732-770-9625
EMAIL: http://www.thetraindepartment.com/contact-us/
Web site: http://www.thetraindepartment.com/

---
Wheel castings (shell-molded cast iron), white metal detail castings, bronze cylinder castings. Catalogue UK£2.40. Visa and Mastercard accepted.
Walsall Model Industries
Unit 16/17
Short Acre Street
Walsall
West Midlands
WS4 2LA
tel/fax: 44 1922 633718
e-mail: info@walsallmodelindustries.co.uk
Web site: http://www.walsallmodelindustries.co.uk/

---
Mark Wood
Wheel castings and turned sets in cast iron from lost wax. Fully revealed spokes with completely correct profiles and counterweights (where appropriate).
These wheel castings are the finest I have ever seen. The lost wax process gives detail and surface finish comparable to brass or bronze castings. Wood has hundreds of wheel patterns in 1:32, 10mm/ft (standard gauge), 15mm/ft (3-foot narrow gauge), 1:13.7 and 1:24 scales.
If you're scratchbuilding a locomotive, you must check out Mark Wood's wheels. Send a self-addressed A5 envelope for a free descriptive list.
Mark Wood
Roseland House
Tilbury Road
Great Yeldham Near Halstead
Essex CO9 4JG
ENGLAND
Tel: 01787 237593
web site: http://www.markwoodwheels.co.uk/
e-mail:mark@markwoodwheels.co.uk
---
Wrightscale
Finescale locomotives in 1:20.3 or 16mm scale for gauge 1 and gauge 0 track.
War Dept. Baldwin 4-6-0 WWI export tank loco. War Dept. freight stock kits also available.
Porter 0-4-0 saddle tank loco. 1:20.3, radio controlled, gas-fired, inside Stephenson valve gear.
Kerr Stuart 0-4-0 saddle tank loco "Wren". 16mm scale, gas fired, Hackworth valve gear.
Kerr Stuart 0-4-0T saddle tank loco "Tattoo". 16mm scale, gas fired, Hackworth valve gear, sprung frame. May be radio controlled.
Bagnall Excelsior 0-4-2

M. D. Wright
Burnside
Aboyne, Aberdeenshire
AB34 5ES
UNITED KINGDOM
Phone:44 3398 86494
e-mail: aboyne.wright@btinternet.com
Web addr: http://wrightscale.co.uk/

---

Go to previous section (Small Scale Live Steam Plans & Drawings).


Go to next section (Index to Selected Articles from Steam in the Garden Magazine)


Go to table of contents.
Compiled and © copyright 1995-2020 by: Vance R. Bass. Please use any and all information contained herein for your hobby enjoyment. All rights reserved. If you're going to make money from it, contact me first.
Last updated 13 September 2020